Jess bought seasonal tickets to the Pantages Theatre last year, so we had quite a few visits to Hollywood in 2009. We enjoyed going with my sister, and that's how we discovered the Triple Berry Cake. Min-Ling, my sister is always knowledgeable about things, she invited us to have early dinner before the show at this really unique little place in North Hollywood called Cafe Solar de Cahuenga. It is a very charming place, and the food is nice, too, but, what's amazing is the Triple Berry Cake they serve. The cake first caught my eyes because of it's elegant design. It's a tall 4-layer yellow cake filled, and frosted and decorated with whipped cream and lots of berries: strawberries, raspberries and blackberries. It looked so delicious, and I simply could not resist it. So, we ordered a piece for dessert after the meal, and it was sooo goood! The next time we visited the same cafe, I ordered nothing but the cake for dinner!
I've made yellow cakes before, but the texture of my yellow cakes were no comparison to the yellow cake in this Triple Berry Cake. "How come I can't make it with that coarse yet moist texture?" was always my question. Mine were usually too fine and dense. I've tried different mixing method: both creaming and high-ratio, but neither of them delivered the kind of texture I've been seeking.
Last month, I heard of a famous cake shop, Sweet Lady Jane. I then looked it up online, and found out that their signature cake is the Triple Berry Cake, and in the picure online, it looks just like the same cake I've had. Finally, today I ordered one! It took me an hour drive to Hollywood to pick it up! Same look, and I was so sure it would taste the same too! Another hour to come back home with this 6" cutie!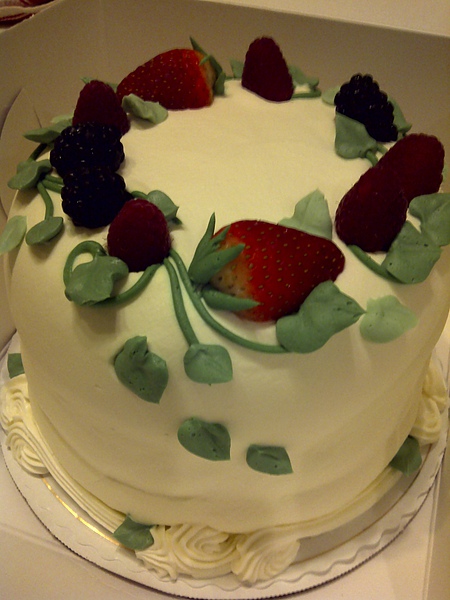 (Sweet Lady Jane's Triple Berry Cake)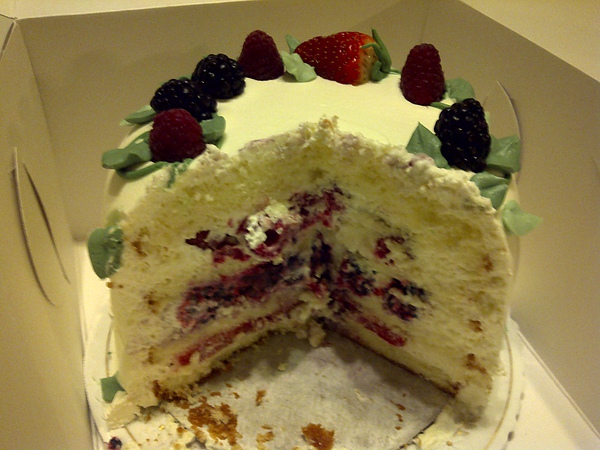 So I got home safe with my new favorite cake, (my favorites used to be carrot cake and black forest cake. I'll talk about them some other time.) Now, I wanted to bake my own Triple Berry Cake once again! I've tried it twice before, and one of them came close to it. My dear sisters from the fellowship are always so supportive about my baking, they always have good things to complement my cake, and they eat it without reluctance, (sounds like I was leeding them poison! Hahaha...) no matter how they came out! Thank you, sisters! This time, I decided to try a new recipe, the all-egg-yolk yellow cake, since I had quite a few egg yolks left from the chiffon cakes I've made lately. I was going to bake two 6" cakes, but I forgot to use the 6" cake pans... So ended up with one 8" cake! Anyway, the moment the cakes came out of the oven, I had a good feeling, it was exactly the-first-time-I-met-my-husband kind of feeling: "This is it! This is the one!"
My family came over for dinner tonight. We had Bajas Tacos' fish tacos my sister bought and Zanko Chicken my brother brought over. I tried to finished dressing up the cake with lots of berries and the whipped cream frosting over dinner. I told them I had a surprise for them, and they thought that was it, but no! After they had my version of the Triple Berry Cake, I brought the original, SLJ store bought TBC, out of the fridge, and we had both! Although they, my family, were being supportive and told me they liked mine better, as usual, I know it came really close this time. Only that my frosting is less sweet, maybe a little too bland, and since it's just made, and there was no space in the fridge to keep it, it was a little too warm. It should taste better tomorrow, I thought. Of course, my cake decoration is no compare either! Absolutely amateur looking! (But my son likes the shortcake look of mine!)
(My version of the Triple Berry Cake)
TRIPLE BERRY CAKE
Golden Yellow Cake:
2 1/2 cup sifted cake flour
2 1/2 teaspoon baking powder
1/4 teaspoon salt
8 egg yolks (room temperature)
1 teaspoon vanilla
1 teaspoon lemon juice
1 teaspoon lemon zest (I omitted this since I did not have it on hand.)
3/4 cup (1 1/2 sticks) butter, room temperature and softened
1 1/4 cup sugar
3/4 cup milk (room temperature)
Filling and frosting:
4 cup heavy whipping cream (cold, really cold)
3/4 cup sugar (3 tablespoon for each cup of whipping cream)
1-2 teaspoon vanilla (I don't like strong vanilla flavor, so I usually use less.)
2 cup strawberries
2 cup blackberries
2 cup raspberries
optional green butter cream for piping leaves and vines
Instructions:
1. Preheat oven to 350 F. Sift flour together with baking and salt, and mix well. Grease and line two 8" or 9" cake pans with parchmont paper.
2. Beat egg yolks, vanilla, and lemon juice until really thick, frothy and pale yellow in color. (I like to beat this over hot water bath, so it thickens faster.)
3. Whip butter until fluffy, add sugar slowly, and whip on high speed until really pale and fluffy. Add egg yolk mixture, scrape the bowl, and mix well.
4. Add flour to the butter egg yolk mixture alternating with milk, start and end with flour. (So it's flour in 3 parts, and milk in 2.) Scrape the bowl, and mix well.
5. Pour the batter into the cake pans, and bake for 25-30 minutes. (I will try lowering the temperature to 325 F about 20 minutes after baking or will bake for no more than 30 minutes next time, because the crust seemed a little to thick after about 35 minutes of baking today.) Toothpick test for doneness.
6. Cool in pan on rack for 10 minutes, then invert it onto the rack, and let cool completely. Level the cake tops and slice the cakes horizontally in the center to make 4 equal slices.
7. Whip the heavy cream with sugar and vanilla until soft peak forms. Fill and frsot the cake with cream and berries.
------------------------------------------------------------------------------------------
I tried it one more time, baked it at 350 F for 25 minutes, still a little over baked, I think. And, this time I used the stand mixer with whisk attachment to mix the egg yolk to a stiffer stage than to mix by hand, the result was not as expected. The crumb turned out to be coarser than the egg yolk beaten by hand. I guess I over-beat the egg yolk...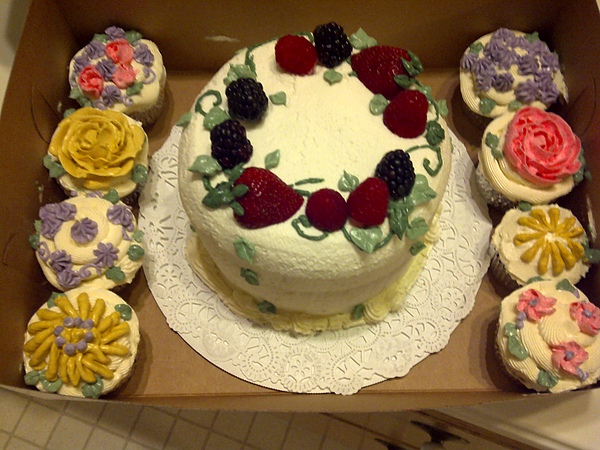 (Homemade Sweet Lady Jan Triple Berry Cake Wannabe - What ugly moon-surface frosting! Leftover batter baked into cupcakes, and I tried my best to decorate them! Hopefully my decorating skills will improve in two weeks, because I am going to attend the Wilton cake decoration classes! Yay!)