I have tried many chocolate cake recipes, and have found this one really popular--Hershey's "Perfectly Chocolate" Chocolate Cake. Ever since I made this chocolate cake, I have not used any other chocolate cake recipes because all my chocolate lover friends love this chocolate cake the best, plus it is very easy to make.
Since this is about the only chocolate cake recipe for me now, I use it for my Black Forest Cake as well as Chocolate Strawberry Whipped Cream Cake or Chocolate Strawberry Mousse Cake. This recipe is easily found online, but here I would like to show you one with my tweak, lower sugar content and cake flour instead of all purpose: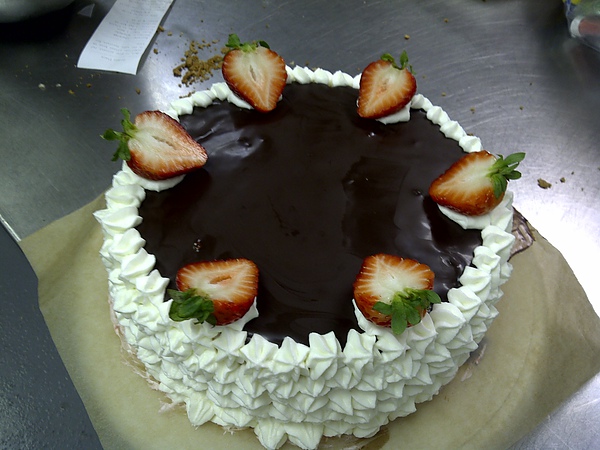 (Chocolate Strawberry Mousse Cake)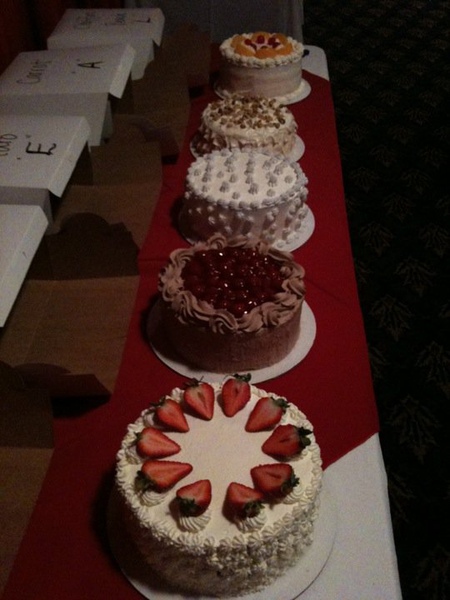 From near to far: Chocolate Strawberry Whipped Cream Cake, Black Forest Cake, (these two are made with this chocolate cake recipe) Chiffon Taro Mousse Cake, Carrot Cake, and Chiffon Peach Whipped Cream Cake (the chiffon cake recipe is the one posted in the Hokaido Chiffon Cake)
MINDI'S HERSHEY'S "PERFECTLY CHOCOLATE" CHOCOLATE CAKE
Ingredients:
Dry:
1 3/4 C cake flour
3/4 C unsweetened cocoa powder
1 1/2 t baking powder
1 1/2 t baking soda
1 t salt
1 1/2 C sugar
Wet: (room temp)
1 C milk
2 large eggs
1/2 C oil
1 t vanilla
Boiling:
1 C boiling water
Instructions:
1. Preheat oven to 350 F. Grease and flour two 8" or 9" pans. Mix all wet ingredients together.
2. Sift flour, cocoa powder, baking powder, and baking soda. Mix with salt and sugar in mixing bowl with paddle attachment in low speed until well blended.
3. Add wet ingredients to the dry in low speed until dry ingredients are moistened, then beat at medium speed for 2 minutes.
4. Add boiling to the mixture in low speed. Mix well, scrape bowl to completely blend the mixture. It is very wet.
5. Pour into the prepared pans, and bake at 350 F for 25-35 minutes. Use toothpick to test doneness. Don't over bake.
6. Cool on rack when done. Fill and frost with your favorite filling and frosting.