Frances posted photos and comments on Facebook, and she lets me include them in here: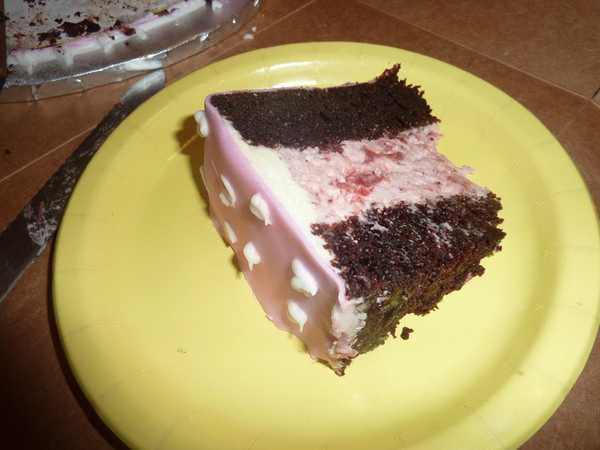 The cake is not only pretty but also delicious -- chocolate with strawberry mousse. Never tasted such good tasting strawberry mousse!
see how much real strawberry is in the mousse -- when you bite into the cake, the fresh strawberry tidbits with its refreshing strawberry aroma, mixed with the creamy decadent chocolate cake, just melts in your mouth!
(Frances is so kind and sweet to use so many nice words! Thank you, Frances!)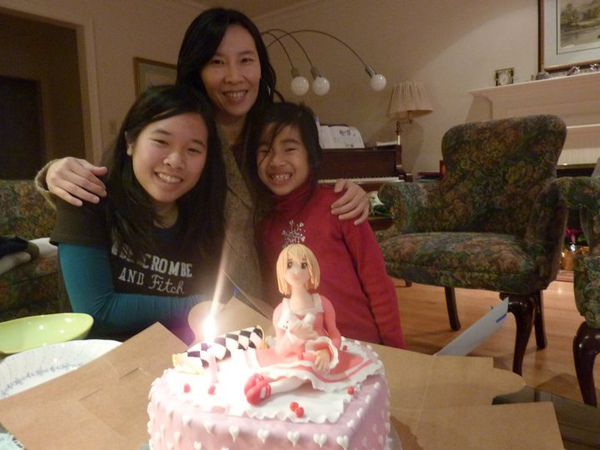 (Frances, Elyse and Nana)
One of my closest friends, Frances, ordered a birthday cake for her daughter's 17th birthday. Frances' daughter, Elyse, is a very talented young artist. Her self-taught manga drawing skills have developed so much and her drawings have becoming so well rounded; it's really amazing! Let me attach her links here so that you can see for yourself: Elyse on Facebook and Elyse on Deviant Art.
This is again, a chocolate cake with strawberry mousse filling, one of my popular cake flavors. I saw her drawing of this girl on a heart-shaped bed, and thought that this is well suited for a cake! So I tried my best to copy it as a cake... Self-critique: I should have kept the hair white instead... And eyes should be set lower... and the hair is so hard to make... Hehehe... I should drawing some manga myself to get to know the proportion better next time! LOL This is by far the hardest cake I've made!
Happy Birthday, Elyse! I love you!