I wanted to bring a cake to the Crowne Plaza Employee's Christmas Party. When I mentioned to some employees the kind of cakes I was thinking about bringing, I received few responses until I said "Tres Leches", then I saw the eyes sparkling, mouths opening wide, and heads nodding with joy. The funny thing is that I've never tasted a Tres Leches before, not to mention making it! So I asked the cooks, and searched online. Hmm... It seems like Tres Leches is a very moist and very delicious cake, and the best thing is that it is pretty easy to make!
Basically it is a cake soaked in a milk bath, almost any kind of a basic cake, ranging from sponge cakes to butter cakes, yellow or white, called for in different recipes. After the cake is cooled, it is soaked in a milk syrup as the filling, and then frosted with white frosting, which is either soft meringue or whipped cream. (Originally the frosting should be the soft meringue, but most people prefer whipped cream now a day.) I remember my sister had it before, so I asked her how it tasted like, and it sounded very much like a yellow cake that she's had. So I made one, with a yellow butter cake, and it was very delicious indeed. I know if there was one thing people would comment on about this cake is the sweetness, so I decreased the sugar content in the original cake recipe to make it less sweet. In fact, Tim, my son, declared that this is his new favorite cake now!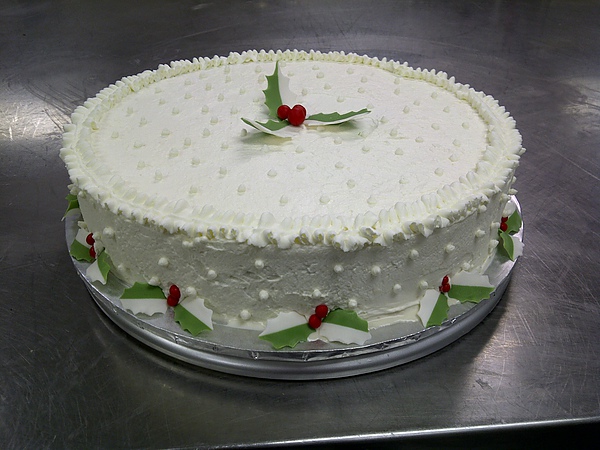 Normally Tres Leches are made in a 9"x13" pan, and are cut in the pan, too, but since I'm making it for a Christmas party, I would like to dress it up a bit. So I made three batches in a 12" pan, soaked the milk in the pan, inverted it on a cake board, and frosted it. The recipe below is one batch for a 9"x13" pan.
TRES LECHES

Ingredients:
Yellow Cake: (9"x13")
This is a basic yellow cake, and the yellow cake I've posted in Triple Berry Cake is a golden yellow cake with all egg yolks.
Dry Ingredients:
2 C cake flour
2 t baking powder
1/2 t salt
Wet Ingredients:
3/4 C milk (room temp)
1 t vanilla
Creaming Ingredients:
1/2 C (1 stick) butter, softened
3/4 C sugar
3 eggs (room temp)
1. Preheat the oven at 350 F. Grease and flour the cake pan. Sift dry ingredients together. Mix wet ingredients well.
2. Cream the butter until pale yellow with the paddle attachment in medium speed. Add sugar, beat until fluffy. In low speed, beat in eggs one at a time, blend well after each addition, but don't over beat.
3. Add the dry and wet ingredients alternately in low speed in D-W-D-W-D order. Blend well after each addition, but don't over beat.
4. Pour into the prepared pan. Bake at 350F for about 25-35 min. Use toothpick to test for doneness. Don't over bake.
5. Cool the cake in pan on a cooling rack for at least 30 min.
6. Poke holes with skewers or forks all over the cake, and pour the milk syrup over the cake. (You will see it flood the cake at first, but very soon it will permeate the cake and disappear.) Let it soak and chill in the refrigerator for many hours, or preferrably overnight.
7. Spread the whipped cream frosting over the cake, and chill for few more hours. Ready to serve.
* When I made it decorated, I inverted it on the cooling rack to drain out the excess liquid after the cake is soaked in milk syrup overnight. Then I moved it to a cake board, frosted it with whipped cream, and chilled it again. Final decoration with ornaments was done right before serving.
Milk Syrup Filling:
1 1/2 C (1 can) condensed milk
1 1/2 C (1 can) evaporated milk
1 C half and half
*1/2 t salt (I added this ingredient only because I like a little saltiness to balance out the sweetness from the condensed milk.)
Mix all ingredients together, and blend well.
Whipped Cream Frosting:
1 C heavy cream
2 T sugar
1/2 t vanilla
Beat heavy cream until foamy in medium speed, add sugar and vanilla, and continue to beat in high speed until soft peak.