Ha.. I've received four cake orders last week! Thank you, friends and family, for you love and support! So happy!
The first cake I made "for sale" was Morris' 19th birhday cake. It was in Michael's Art Studio in Arcadia, California, last Tuesday, when Michael and I were chatting about doing wedding cake as a business in Shanghai. Then, Michael asked to buy my cake for his birthday coming up on December, 9th; of course I accepted the order! And then, Amy said that her son's birthday was coming up this Saturday, November 27th, so I received two orders! Thank you, friends!
I needed to know more about the birthday star who I was going to make the cake for, then I found out that Morris, a 19-year-old college student who I've known since his birth, is fond of sewing and is very good at it. Wow, how cool is that! What a unique hobby for an Asian college boy, and I like this! Other things I found out about Morris was that he likes strawberry cakes, and his favorite color is blue...
After dinner on Thanksgiving night, I started to make the little ornaments for Morris' cake. Yes, they are items related to sewing. A few spools, large and small, buttons with different sizes and colors, a tape measure, and a pin cushion with a few pins. Oh, yes, a blue scarf, no comparison to Morris' hand made scarf, just a token though. I thought that the colors are a little clashing, because the cake is a pink strawberry cake with strawberry mousse filling and frosting, thus it's kind of in contrast with the blue... Well, more to learn and to improve on next time!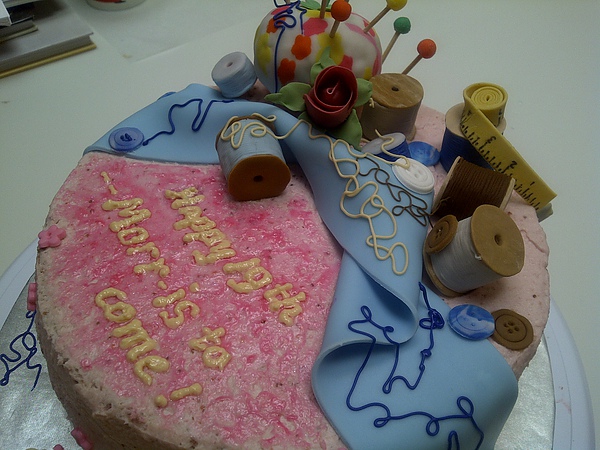 (Happy 19th --Morr-is to come!)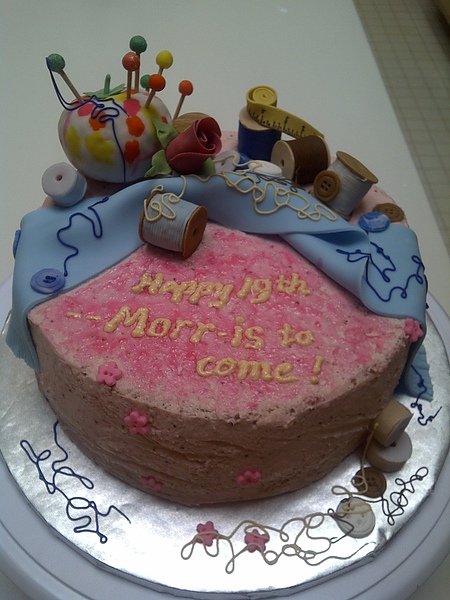 (The small red rose is the signature of my custom cakes! Hehehe...)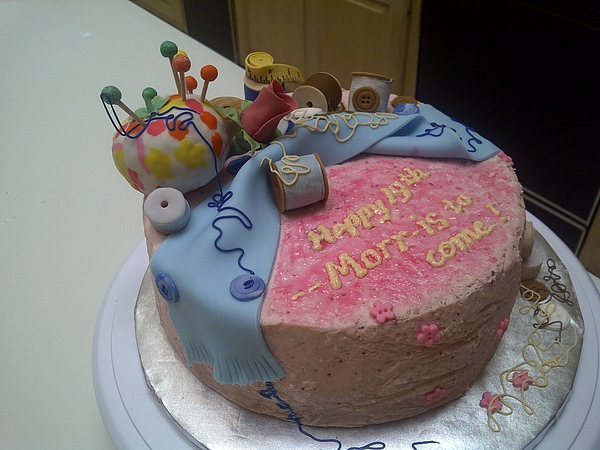 *************************************************************************
Amy called and left a message this morning that the kids really liked the cake! They took 12 pictures of the cake, and they said it was delicious! What's more to ask when people enjoy the food you cook, or in this case, the cake you bake and decorate? Most of the pretty cakes are known for their looks, not the taste, so it is my calling to make pretty cakes delicious. It seems like that the first hit did not miss the target! Very happy, indeed! :-)